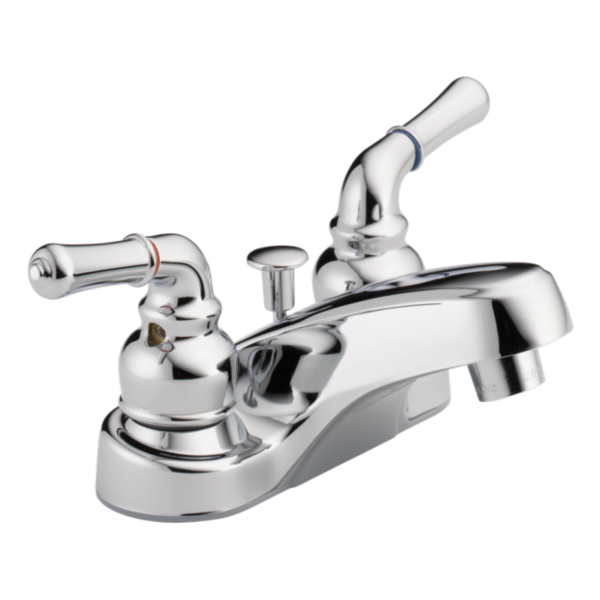 Two Handle Centerset Lavatory Faucet
Model:

P299618LF-W

List price as shown:

$57.10

Finish:

Chrome
Product Features & Benefits
WaterSense® certification promotes water conservation
Includes matching finish drain assembly
Meets standards set by Americans with Disabilities Act (ADA)
1.50 gpm @ 60 psi, 5.7 L/min @ 414 kPa
CA/VT Compliant
Water Efficient Product meeting CALGreen standards
WaterSense Labeled
ADA Compliant
Product Details
Handle(s):

Two Handle Lever

Flow Rate:

1.5 gpm @ 60 psi, 5.7 L/min @ 414 kPa

Valve Type:

Washerless stem cartridge

Flow Rate:

1.5 gpm @ 60 psi, 5.7 L/min @ 414 kPa

Installation:

3-hole 4" installation

Spout Length:

5-7/8

Spout Total Height:

3-5/8

Spout Height Deck to Aerator:

1-1/2
Product Support, Repair Parts & Technical Specifications
Maintenance & Installation Sheet
Technical Specifications
Holes for Installation
3-hole 4" installation
Rated

1.1

out of

5

 by

14

reviewers.
Rated

1

out of

5
 by
Steve56
Leaks real bad from the cold water side
The Bathroom Faucet leaks real bad P299618LF-W. From the cold water side, It was bought at Walmart last year in November and installed right away by a Professional. I can't find a Stem Cartridge valve no where. I don't know what to do. It is brand new faucet, less than a year old. The other Faucet that I had in bathroom lasted 0ver 20 years, it was a Delta!
September 24, 2015
Rated

1

out of

5
 by
John
Leaks upon installation
Bought to replace leaking 1970s faucet and installed in bathroom and leaks from the start. It leaks worse than the 1970s faucet.
March 31, 2015
Rated

1

out of

5
 by
RWhite
LEAKS BADLY
Purchased this faucet upc # 003444972569 from Walmart on 11/01/2014 installed that week, on 12/15/2014 in the middle of the night the hot water side all of a sudden started leaky very badly, rushing water out fully , the noise is what woke me luckily since I had to shut the water off in order to stop the water flow, I have the receipt but not the box anymore so I don't know if our Walmart will take care of or not , but I don't really want the same one , but would use the return to buy a better quality one. The design of this model is obviously not a good one , should recall all of them and replace with better comparable product. The last peerless I had in that sink still works and have had that one for 14 yrs .
December 18, 2014
Rated

1

out of

5
 by
joee3028
Can't stop leak.
I had a plumber install this in a rental unit and unfortunately did not rent the unti for a few months after installation. The new tenant called within a few days and said the faucet was leaking. I tried replacing the seat and springs several times and finally the cartridge. It worked for only a few weeks and started leaking again.Now I am out the money for the plumber, the parts, my time, and a very unhappy tenant.
December 13, 2014
Rated

1

out of

5
 by
w2ben
leaked from day one
My elderly husband installed this thing and it leaked a slow leak from day one. At 80 he is still a great fix it man but is at a loss as to what to do other than buy another brand and start over. Retirement money is limited and we thought we were buying something that would last since this was a brand that had been around. I guess everything changes...even trusted brands.
November 10, 2014
Rated

1

out of

5
 by
jcewl93
Leaks thru spout right out of the box
I bought 2 of these at Walmart, and as soon as I installed them and turned the water cut-offs back on, they began to leak cold water from the spout. I called to get replacement stems, and was informed they had been discontinued and parts were no longer available. They are sending me 2 replacement faucets that hopefully will last longer than it takes to get them out of the box
November 11, 2014
Rated

1

out of

5
 by
Grampa1002
Leaked right after installation.
Bought this to replace a faucet that didn't look very nice but worked fine. The hot water side began dripping within a few days of installation. The leak progressed to a steady stream. Tried to fix it but after 2 tries had to just turn the hot water to the faucet off and use only cold until we can find a better faucet. So disappointed. Thought Peerless was a quality product. Do we need only Peerless parts...which we can't find?
August 5, 2014
Rated

1

out of

5
 by
ANNOYED42
Leaks right out of the box
I should have read the reviews prior to buying. I have the new faucet installed by a professional because my old faucet began leaking after 20+ years. The plumber hooks everything up and turns the water back on, cold water drips from the start. We tried pushing the handle back to make sure it was off, still DRIPPING. I come here to locate a number to call and see all the BAD reviews, I am furious, currently having the plumber take it back off. It can go back and I will go with another more reliable brand, just like someone else had listed on here, I thought Peerless was a good brand, WRONG!!!!Model #P299618LF-BN-WIt looks like PEERLESS should do a recall and get this problem fixed ASAP. It has only taken one time for me to avoid this brand in the future.
August 20, 2014
Product Q&A
Ask your questions. Share your answers.
---
1The manufacturer's list price (U.S. dollars) is shown for comparison only. The actual retail price may be different from the price shown.