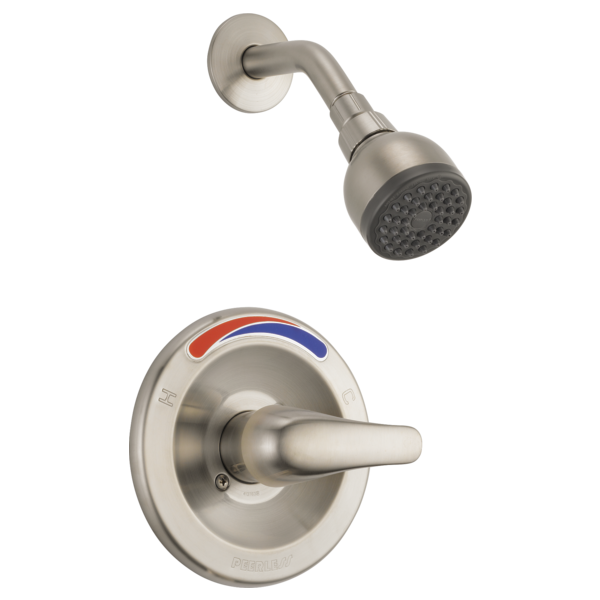 Pressure Balance Valve Body:
$53.15
List Price*:
$113.80
Product Features & Benefits
Purchase PTR188700-UN Peerless rough valve separately
Pressure balance valve keeps water temperature within +/-3° F
Single function operation
Single lever handle for ease of temperature control
Touch Clean
Water Efficient Product meeting CALGreen standards
Brilliance Finish
WaterSense Labeled
ADA Compliant
Product Details
Handle(s):

Single Handle Lever

Flow Rate:

1.50 gpm @ 80 psi, 5.7 L/min @ 550 kPa

Valve Type:

NA

Installation:

N/A

Spout Total Height:

9-1/2
Product Support, Repair Parts & Technical Specifications
Maintenance & Installation Sheet
Technical Specifications
Parts & Accessories Diagram
Holes for Installation
N/A
Minimum Pressure Requirement
What is the minimum pressure requirement for your balancing valve?
Hi Steve, Thank you for your question. Our faucets are designed to function with working water pressures of 20 to 100 PSI. Thanks, Dave
Date published: 2015-03-17
Off at full cold or full hot
A recent home inspector said the faucet was faulty or was incorrectly installed since it turns the water off on either full cold or full hot positions. Is this a known problem or concern?
Hi Seabird, Thank you for your question. It sounds like the rotational limit stop on the cartridge is missing or not adjusted correctly. The rotational limit stop(RLS) is the 2 brass arms underneath an o-ring on top of the cartridge used to set the max hot water temperature on the faucet. The cartridge/RLS should look like the 2 pictures attached below. I have also included a link to the manual for the model PTT188742 which will cover how to make the RLS adjustment. If parts are missing the entire RP70583 cartridge will have to be replaced. Thanks, Dave http://www.peerlessfaucet.com/customer-support/find-repair-parts/documentation/ptt188742.html?document=mi&documentIndex=0
Date published: 2015-03-09
The water is warm but does not get hot when turned on full hot.
Hi Jen, Thank you for your question. Your model PTT188742 faucet comes equipped with a rotational limit stop that allows you to set the max water temperature for your faucet. I have attached the instructions on how to make this adjustment to raise the water temperature below. You will have to remove the handle and trim sleeve to make this adjustment. Thanks, Dave
Date published: 2015-03-09
*The manufacturer's list price (U.S. dollars) is shown for comparison only. The actual retail price may be different from the price shown.