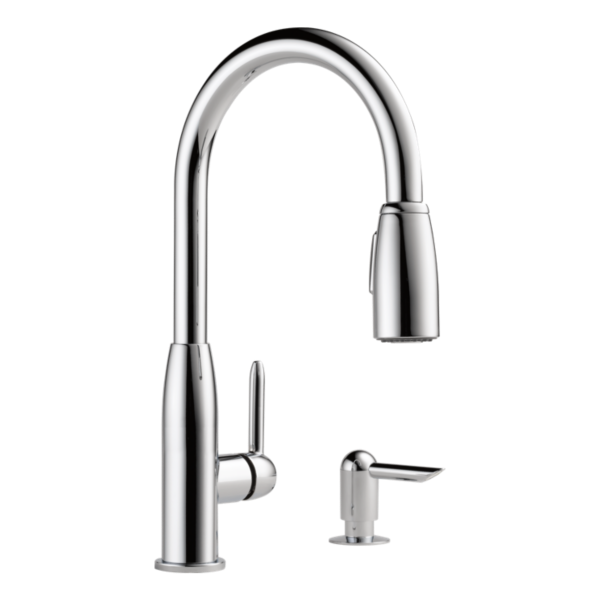 Single Handle Kitchen Pull-Down with Soap Dispenser
Model:

P188103LF-SD

List price as shown:

$197.50

Finish:

Chrome
Product Features & Benefits
Matching soap dispenser for added convenience
2-function, pull-down sprayer for easy pot filling and clean-up around the sink
Sleek, integrated handle design
2 or 4-hole sink applications using optional escutcheon
Touch Clean
CA/VT Compliant
Soap Dispenser
Water Efficient Product meeting CALGreen standards
ADA Compliant
Product Details
Handle(s):

Single Handle Lever

With Soap/Lotion Dispenser:

T

Flow Rate:

1.8 gpm @ 60 psi, 6.8 L/min @ 414 kPa

Pull-out/Pull-down:

Yes

Valve Type:

Ceramic valve

Flow Rate:

1.8 gpm @ 60 psi, 6.8 L/min @ 414 kPa

Installation:

2 or 4-hole 8" installation

Spout Length:

8

Spout Total Height:

10-1/32

Spout Height Deck to Aerator:

7-1/16
Product Support, Repair Parts & Technical Specifications
Maintenance & Installation Sheet
Technical Specifications
Parts & Accessories Diagram
Holes for Installation
2 or 4-hole 8" installation
Rated

2.8

out of

5

 by

31

reviewers.
Rated

2

out of

5
 by
MHDude
Great...for a few months
I had this installed when we remodeled out kitchen. It looks great, but it started leaking from the internal fittings within a few months and damaged the wood under my sink. Additionally, the soap dispenser stopped working within weeks and the steady drip from the sprayer is present, like many other reviewers. Very disappointed with the overall quality.
October 25, 2015
Rated

2

out of

5
 by
happy
no longer happy!
I posted earlier that I had bought a second faucet for my home in IL after buying one for my condo in FL. Other than the soap dispenser not working, I was happy with the faucet. Although I installed the faucet myself in FL, I did have a plumber install the second faucet here in IL. Immediately, the faucet dropped and hung after use. I adjusted the weight, and that helped, but now the faucet head is leaking. I've had it less than a month.
July 25, 2015
Rated

2

out of

5
 by
hildo
Looks nice has European design
Soap dispenser is useless. But it looks good. The faucet has a nice Euro look. Price is good. Style and finish is elegantFaucet as a steady drip and if you don't let the water run for awhile (WASTEFUL) it tastes like drinking from a hot outdoor garden hose. I have 20 year of plumbing experience.
September 6, 2015
Rated

4

out of

5
 by
Amy
Great faucet, faulty soap dispenser!
I bought this faucet just under a year ago. It looks great, was easy to install, and I have had no problems with the faucet or sprayer head. But the soap dispenser has never worked well, despite me frequently cleaning it, rinsing out the soap residue, and changing soap types. It is basically a pretty, but useless, way to fill the fourth hole in my sink! I'd definitely recommend the faucet, but not the soap dispenser. I wish I'd read the reviews here before purchasing the faucet!!
August 22, 2015
Rated

3

out of

5
 by
Michael23
beautiful but a few flaws
Not long after buying this faucet the soap dispenser quit on us which is one thing my wife loved about the faucet. Second thing is more so annoying the faucet head hangs constantly and won't stay up and last but not least the nut that holds the faucet up keeps untightening and running down making the faucet sag. I love the looks of the faucet but not when it sags and the head is hanging.
May 24, 2015
Rated

4

out of

5
 by
yoyo
Easy movability
The faucet itself is a very nice unit. I had extreme difficulty tightening the center nut of the faucet. That was because I had a deep well sink installed 2 years ago and it made it extremely hard to get to the center nut. I like all the features and it is a good looking faucet.
May 13, 2015
Rated

3

out of

5
 by
Craig007
Spray head won't stay in tube housing
The faucet works well, but the spray head will not retract all the way in the housing and stay there. I drops about four inches and hangs on the hose which makes it hard to use as a normal faucet. We have two of these and both have the same problem. Is there a snap ring inside the faucet tube that secures the head in place? I have check under the sink and the hose is not being obstructed or touching anything.
April 24, 2015
Rated

4

out of

5
 by
happy
liked it so well I bought another (soap dispenser doesn't work though)
I installed this faucet in my townhome in Florida. It was easy to install by following the directions. I like it so much that I'm replacing my faucet in my home tomorrow. It was interesting to read the reviews, however, since the soap dispenser stopped working after about 2 months. Because my home sink doesn't accommodate the soap dispenser, I planned on taking it to Florida and replacing the faulty one.
June 2, 2015
15

Questions
 : 
16

Answers
Product Q&A
Ask your questions. Share your answers.
---
1The manufacturer's list price (U.S. dollars) is shown for comparison only. The actual retail price may be different from the price shown.