California Title 20 Water-Efficiency Standards
Due to severe drought, California Governor Jerry Brown mandated water restrictions in an Executive Order issued April 1, 2015. In the Order, the California Energy Commission (CEC) was charged with adopting emergency regulations establishing standards that improve the efficiency of water appliances, including faucets, toilets, urinal flush valves and shower devices available for sale in California.
The CEC's water-efficiency standards, which are comparable to or lower than the applicable WaterSense® program standards, are noted below.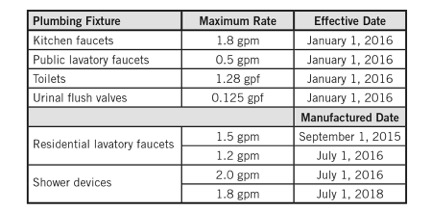 ​
Peerless® Product Compliance
All Peerless kitchen faucets are 100% compliant and available now.
All Peerless lavatory faucets are 100% compliant with the 1.5 gpm standard. All Peerless residential lavatory faucets will transition to 1.2 gpm models as a running change with no change to model numbers prior to July 1, 2016.
Shower devices that comply with the 2.0 gpm standard are available now, and 1.8 gpm shower devices will be available by July 1, 2018.
Please see below for additional information about the new standards and the products affected by them.