PEERLESS
3-Setting Peerless Combo Pack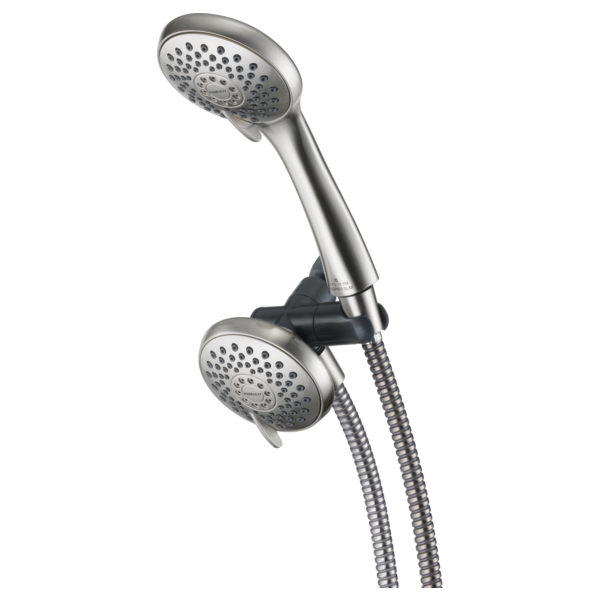 76311SN
is rated out of
5
by
2
.
Product Features & Benefits
Three-spray combo pack combines the convenience of a standard shower head with the flexibility of a handheld shower
Both the shower head and the hand shower feature rub clean nozzles - simply rub them to remove any mineral build-up
Change the spray setting by simply rotating the dial, and choose from several spray options
The three-way diverter allows the water to flow from the hand shower, shower head, or both at the same time
Touch Clean
Product Details
Handle(s):

NA

Flow Rate:

2.50 gpm @ 80 psi, 9.5 L/min @ 552 kPa

Valve Type:

NA

Installation:

N/A

Spout Total Height:

10-3/32
Support, Repair Parts & Technical Specs
Maintenance & Installation Sheet
Technical Specifications
Holes for Installation
N/A
Rated

1

out of

5
by
Showerguy123
from
Junk
I bought this brank new and all the spouts leak upon installation. I even used the white tape of every thread possible. Thought I needed to tighten and it cracked. $70 down the drain, literally. Junk!!
Date published: 2019-01-13
Rated

4

out of

5
by
Sasha
from
Great shower head at a low price
My previous shower head was a Moen, but I chose to replace after seeing this model at Walmart today. It looks great, water flows perfectly and I installed myself in around 12 mins. My only complaint (vs Moen) is the plastic. I assumed it was metal while in the packaging.
Date published: 2014-08-06
Those the main shower head move to adjust angle of shower head, up, down, side to side? How do change from main shower head to handheld only or to have both going at same time or just to use the main shower head? Think there should be info for operations.
Thank you for your question, Steve60! Yes, the shower head has a ball joint that will allow it to swivel about 30 degrees in any direction. There is a 3-setting diverter on the side opposite the hand shower mount that will allow you to divert flow between the shower head and hand shower. Best regards, Jon
Date published: 2019-07-08
Hi is there any way to adjust the hand held holder to b more level? It's about an inch from my ceiling.
Hello Elinora, Thank you for your question. You may adjust the angle of the hand shower mount by mounting the hand shower and then pivoting it toward you. Best regards, Jon
Date published: 2018-07-23
how to adjust shower head for harder shower
Thank you for your question, William. This unit has three spray settings: Full Spray, Massage Spray, Full Spray w/ Massage. The setting can be changed by rotating the spray face. The maximum combined flow rate is 2.5 GPM. Best regards, Jon
Date published: 2018-06-06
Is there any way to take the shower heads apart to clean them inside?
I really love this shower head, but we have very hard well water, and things need to be cleaned inside for them to work properly. It's obvious that I need to clean inside the shower head, but I can't figure out how to take it apart. Is this possible? I've already replaced it twice with the same one, but I'm tired of wasting money on it. Cleaning it would be much better. Soaking in vinegar over night doesn't work. Thanks for any help!
Thank you for your question, Natalie! While it is not designed to be taken apart, you can remove mineral buildup from inside the shower head or hand shower by soaking them in a 50/50 white vinegar and water solution for about 15 minutes. Best regards, Jon
Date published: 2019-02-12
Some holes seem to be plugged but I can't get the front off to clean it. How can I clean the head?
A112 18 1M
Hi Confused, Thank you for your question. We recommend for Non Touch-clean shower heads or stubborn deposits - unscrew the shower head and soak it in a 50/50 vinegar and water solution for several hours. For stubborn deposits, rub with a toothbrush. We do not recommend disassemblying the showerhead. Thanks, Dave
Date published: 2019-02-12
How do you shut off one head vs. the other?
I just installed it and the hand shower will not turn off. What am I missing?
Hi TTaylor, Thank you for your question! You can divert between running the hand shower, shower head, or both by turning the diverter lever on the left side of the unit. Thanks, Jon
Date published: 2019-03-01
replacement part
I have a shower head/handheld combo (76311). The connection from the pipe to the shower head combo has a white plastic thingy around the ball thingy. the white plastic thingy cracked and water sprays backwards. Can I get a replacement part anywhere? I love this shower. I spent $50 on another brand of shower/handheld and it doesn't spray very well. Thanks you. Please see attachment photo.
Hi LGood, Thank you for your question. Unfortunately the model 76311 is discontinued and no longer available. We do offer the U4920-PK 3 way shower arm diverter with hand shower mount that can replace the damaged potion of your showerhead combo. http://www.deltafaucet.com/bath/details/u4920-pk.html Thanks, Dave
Date published: 2015-02-24
Are replacement parts available?
I broke a fall by grabbing the shower head, luckily it broke instead of me. Now I need a new ball for the fixed head. It's the ball that fits into the back of the shower head that allows the head to swivel. It also has the threaded cap that screws onto the diverter valve. So one end is a ball the other is a female threaded cap. Thank you.
Hi Ernie, Thank you for your question. Unfortunately there are no replacement parts available on the model 76311SN. The entire unit will have to be replaced. Thanks, Dave
Date published: 2014-03-10