PEERLESS
Tub and Shower Complete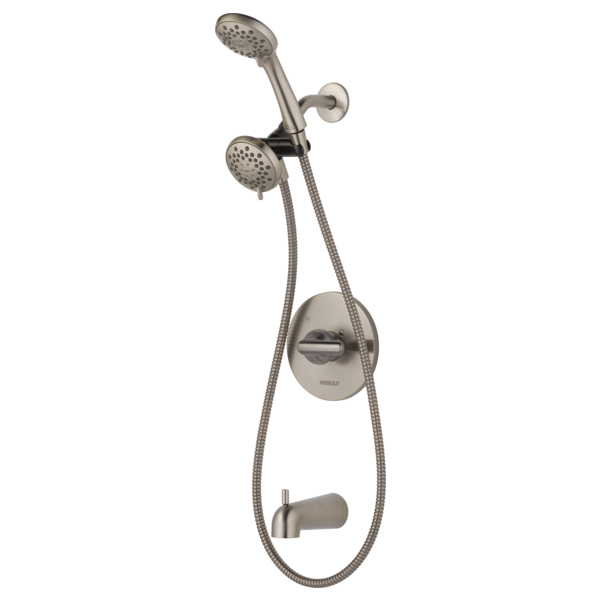 P18437-BN
is rated out of
5
by
9
.
Product Features & Benefits
Spray settings include: Full Body spray, Fast Massage spray, Full Spray with Massage
Soft, rubber Touch-Clean® spray holes allow you to easily wipe away calcium and lime build-up from the spray face of your shower head and hand shower with the touch of a finger
For use with PTR188700 Series rough valve (included)
Touch Clean
Brilliance Finish
WaterSense Labeled
ADA Compliant
Product Details
Handle(s):

Single Handle Lever

Flow Rate:

1.75 gpm @ 80 psi, 6.6 L/min @ 552 kPa

Valve Type:

Single-function pressure balance cartridge

Installation:

N/A

Spout Total Height:

6
Support, Repair Parts & Technical Specs
Maintenance & Installation Sheet
Technical Specifications
Parts & Accessories Diagram
Holes for Installation
N/A
Rated

1

out of

5
by
Derek49
from
Junk
Bought this unit for a remodel and should have tested the water pressure and temperature before finishing project, valve creates very poor pressure and mixes too much cold water. It's fine if you like to be lightly sprayed with Luke warm water. No adjustments on valve, will have to replace assembly.
Date published: 2019-08-26
Rated

5

out of

5
by
Junior
from
Awesome
I bought this a month ago. Works awesome !!! Great product !!!
Date published: 2019-07-11
Rated

5

out of

5
by
I do not have a nickname
from
Good product
It replaced an old shower system that was installed in the 1950s and is performing quite well. I particularly like the dual feature - regular shower head AND hand held shower.
Date published: 2019-04-14
Rated

3

out of

5
by
Walle
from
Just okay!
We bought this unit mostly because it was the only one we saw in brushed nickle.. works okay , doesnt supply a very forceful stream of water but is adequate!
Date published: 2019-01-19
Rated

2

out of

5
by
Katangel55
from
Looks nice but breaks and leaks
I just moved into a house and the previous owner updated the bathroom quite recently with this set. It looks nice but was leaking between the connections of the shower head and where the handheld shower connected and also dripping constantly out of the tub faucet. Took out the handheld which solved the leak up there; however, when I tried to take out the canister to replace it so the constant drip would stop, the canister broken half... leaving half in my wall and half in my hand. I now have to call a plumber who will have to replace the entire set of pipes where it connects. I will have to pay $200 for a new set and $300 to $500 for other supplies and labor. Steer clear!
Date published: 2018-08-19
Rated

1

out of

5
by
bill080361
from
poor water preasure
I bought this last week, very easy install, but when turned water on there was low stream from shower head and hand held unit. had to buy a different hand unit to get any pressure.
Date published: 2018-04-17
Rated

4

out of

5
by
greenhill91
from
Dual shower heads are great!
We did run into a problem when we first tried to install the shower head/hose. The hose was made of plastic and with one turn cracked. I immediately contacted customer service who sent us a stainless steel replacement hose at no extra cost. What great customer service!
Date published: 2018-04-10
Rated

2

out of

5
by
tsw60
from
Bath shower hot warm
we have purchased and installed the item. The only thing I do not like the hot water is lukewarm, not hot. is there anyway to adjust this? I select this item due to the second handle.
Date published: 2018-04-02
How do you unthread the slip-on adaptor from the spout? I have tried all I can it simply is not moving.
My apologies for the confusion regarding your question. To remove the adapter from the spout we recommend to use a flat rubber jar opener to help grip the adapter and turn it counter-clockwise. Best regards, Jon
Date published: 2018-10-25
Can the shower heads run independent from one another?
Thank you for your inquiry, Mikea! The Peerless Complete Tub and Shower P18437-BN faucet has a shower arm mount with a side Diverter that allows for single or shared operation of showerhead and handshower. https://media.peerlessfaucet.com/SpecSheet/PSP-B-P18437_A.pdf Best regards, Tanya
Date published: 2018-09-18
What is the diameter of the inner hole? I am having a hard time trying to match a shower Escutcheon to the valve that belonged with this product.
Hello Kk18, Thank you for your inquiry! The escutcheon plate of the Peerless Combo Tub and Shower P18437-BN faucet, has an inner hole size of 1.795". Best regards, Tanya
Date published: 2018-08-06
To install the spout diverter with iron pipe what do you need to do? There are no instructions. Other spouts you remove the plastic insert. I could not remove mine. In fact, it broke while trying to remove it.
There are no threads and a 1/2 threaded pipe doesn't fit in the whole. A 1/2 inch copper smooth fits but the when you pull up on the diverter water backs out of the back of the faucet. Something doesn't seem right and the directions don't really say much. 
Date published: 2018-05-30
Instructions say "Caution excessive heat may damage valve unit". How do I solder copper pipe into the valve unit without heating it too much? If removing the valve body from the brass fittings is required, how do I do that without causing damage?
Hello James66, Thank you for your question. We do not recommend soldering pipes directly to the valve of the Peerless Tub and Shower P18437-BN faucet model. However, you can solder a threaded adapter onto the copper pipe, then connect that to the valve. There are not brass parts required to be removed from the valve for installation. https://media.peerlessfaucet.com/MandI/90547%20Rev%20B.pdf Best regards, Tanya
Date published: 2018-02-27
Does model come in a shower only version? I want it for my new shower, I don't need the tub spout.
Hello Yooper, Thank you for your question. The Peerless Tub and Shower P18437-BN is not manufactured as a shower only unit. Best regards, Tanya
Date published: 2018-02-19
Hot water pressure isn't working
Hello Nate, Thank you for your question. You may have some debris trapped in the valve body or cartridge assembly that is blocking the hot water flow. You may need to clean out the cartridge assembly and flush out the valve body. First turn off the water supply to the faucet. Remove the handle assembly, unscrew the bonnet ring and remove the cartridge assembly and all seals. Rinse and clean the cartridge out thoroughly. Turn both the hot and cold water back on for 10 to 15 seconds to flush out the valve body. After the allotted time, turn the water off and reinstall all of the components. Make sure that there is no debris on the cartridge assembly and seals. Best regards, Tanya
Date published: 2018-02-05
The directions state that a 3 7/8 - 4" pipe should extend from the finished wall. This is fine if you are using threaded pipe but if you are using just 1/2" copper the tub spout will only go 3 1/4" leaving it 3/4" from the wall. Please advise.
ShermanJoe, Thank you for your question. For a slip-on installation, we recommend that the pipe extend 1-1/2" to 2-3/4" from the finished wall. Best regards, Jon
Date published: 2019-04-23