PEERLESS
Single Handle Pull-Down Kitchen Faucet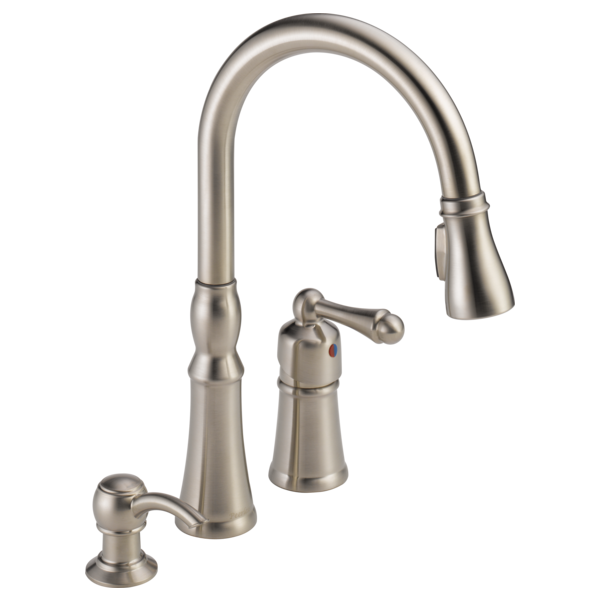 P88105LF-SSSD
is rated out of
5
by
39
.
Product Features & Benefits
Single Lever control for single hand operation
Pull-down design provides long reach for ease of clean-up
Includes optional matching soap or lotion dispenser
Touch Clean
Water Efficient Product meeting CALGreen standards
Low Lead Certified
Brilliance Finish
Soap Dispenser
ADA Compliant
Product Details
Handle(s):

Single Handle Lever

With Soap/Lotion Dispenser:

Yes

Flow Rate:

1.80 gpm @ 60 psi, 6.8 L/min @ 414 kPa

Pull-out/Pull-down:

Yes

Valve Type:

Washerless stem cartridge

Installation:

3-hole 6-16" installation

Spout Total Height:

15-7/32
Support, Repair Parts & Technical Specs
Maintenance & Installation Sheet
Technical Specifications
Parts & Accessories Diagram
Holes for Installation
3-hole 6-16" installation
Rated

3

out of

5
by
Brigid
from
Great, except for the soap dispenser.
We have owned this faucet for a few years and it has been great, with the exception of the soap dispenser. It worked initially but stopped working within a few months of owning it. My husband and I have tried everything to get it to work but nothing helps long term. Came to the website to look for trouble shooting tips but can't seem to find any. Any help is appreciated!
Date published: 2018-09-04
Rated

4

out of

5
by
bIUkBe
from
Worth Product
It is really working as expected , money worth product, value for money. This is the best faucets prodcuts websites so far. Worth prodcut in this price , really good experience with this faucet
Date published: 2018-05-18
Rated

1

out of

5
by
Tracy
from
Disappointed
I purchased this based on looks. Sadly it's disappointing. The arched head won't hold its position and continues to swing to the left, making hard to run water in the right side of the sink. The head sprayer will not seat easily back into place so it's always hanging - ugh! I haven't used the soap dispenser based on all these reviews. The button on the head sprayer would not always activate. I have to squeeze it several times for it to work. I have the receipt and will probably throw all the parts in a box and return to Lowe's for a refund. What a troublesome disappointment.
Date published: 2018-04-26
Rated

1

out of

5
by
Rhstang2
from
Sprayer does not seat correctly
I bought this about a month ago and I installed it and the sprayer had never seats back into the spout correctly to me this is unacceptable as I spent good money on this faucet, and it looks horrible. What can be done to fix this issue
Date published: 2018-04-17
Rated

1

out of

5
by
Brenda
from
Peerless P88105LF-SSSD
We bought ours June 2017 and for the last 3 months my husband has to get under the sink to tighten it down now for the last 2 weeks it floods under the sink can't keep any thing under there. It is an expensive piece of junk. Soap dispenser only worked for a month.
Date published: 2018-03-16
Rated

4

out of

5
by
Mirandadane
from
Love the faucet!
I bought this in February 2017 and I absolutely love it! Everything has worked so great and I feel it is money well spent. The only problem is the soap dispenser. It worked great for a couple months, but dropped after each use. Then it quit working and so I thought it might be stopped up so I would take the pump out and rinse it with hot water and it would work for a little while. Then a few days later it does the same thing. I'd like to replace it because I really like using it.
Date published: 2018-03-11
Rated

4

out of

5
by
CB2
from
Love this
This is a wonderful faucet. I love the fact that the head comes down to become a sprayer instead of having to have a separate sprayer. That let me have a water faucet put into the extra hole I had since this was a replacement faucet. Only 2 issues, I wish the sprayer hose was longer and I wish it were easier to toggle between the 2 sprayer settings. However, this did not stop me from purchasing this item. Very elegant looking and has a nice arc.
Date published: 2018-01-06
Rated

3

out of

5
by
Rob158
from
Water handle does not stay tight
The faucet itself is fantastic. Great water pressure and design makes doing dishes a simple chore. My only complaint is that the small nut that holds the water handle in place will not stay tight. I am climbing under the sink a couple of times a month to tighten this and the tool they give you is a a worthless plastic nut driver that strips and will not tighten the nut now at all. Even tried to tighten it with a deep well socket but it still comes back loose. I really do love the faucet but will need to replace it since the handle is always loose and moves all over the place.
Date published: 2017-12-05
How do I remove the quick disconnect? http://photos-us.bazaarvoice.com/photo/2/cGhvdG86cGVlcmxlc3M/089c7bd1-5632-5587-a4dc-1a2ee90d8c3c
Gz3s36, Thank you for your question! To disconnect it from the faucet, squeeze the tabs together, push up, then pull down. The quick-connect clip is not intended to be removed from the hose. Best regards, Jon
Date published: 2018-05-10
Snap quick hose
Do you remove the plastic parts. The hose will not snap on
Thank you for your question, Sue. First, please make sure the block (RP60121) is installed on the pipe nipple. To connect the hose, check inside the quick connect fitting for the square holes. These should be covered by another piece on the outside. Press the hose onto the faucet so that the tabs on the block are aligned with the holes inside the end of the hose. It should click into place. Best regards, Jon
Date published: 2017-10-23
can i order the bottle for the hand soap dispenser
Hi Lonny, Thank you for your question. Unfortunately, the bottle is not available separately. It is included with the RP70710 soap dispenser. http://www.peerlessfaucet.com/kitchen/product/RP70710SS Best regards, Jon
Date published: 2017-06-02
How do you remove the aerator? I have real poor water pressure
Hi Jonathan, Thank you for your question. The aerator can be removed using the included wrench tool. If you no longer have the wrench, you can try using a pair of needle nose pliers. Open the pliers and place the tips into the grooves on the bottom of the aerator. You do no need to grip the aerator with the pliers, simply use them to carefully turn the aerator counter-clockwise. Best regards, Jon
Date published: 2017-12-14
Need a plastic connection that connect water line to the faucet
None
Hi Larry, Thank you for your question. Unfortunately the pictured part is not available as a separate item. It can only be ordered as part of the RP73867SS hose assembly. Thanks, Dave
Date published: 2018-06-04
the head has a ruber seal that switches, spray to flow it has a hole in it can it be repaired
Hi DJ, Thank you for your question. The spray head to the model P88102LF-SSSD faucet does not have any repair parts available separately. The entire RP73867SS hose assembly would have to be replaced. Thanks, Dave
Date published: 2015-04-29
i want to buy another soap dispenser because my sink has 4 holes in it and another would be good for hand soap. how do i order one?
ordering info.
No..,I just want the single dispenser to work.
Date published: 2015-05-16